This article is about the ship specification as it appears under the Information section within a ship profile.
Specification tab lists all static information about a ship. With static information we refer to information that doesn't change very frequently, such as contact information, ship particulars, etc.
Table view
To switch to table view, select the Table view button on the top of the specification. In the table view, all categories and values are displayed in a searchable table.
Only users with edit rights get access to the edit mode. Others will get values as read only.
Box view
Depreciated: this view will be removed in future release.
The default view of a specification is the box view as shown on the screenshot below. The box view is designed to give the user a quick overview of the sections within the specification along with the completeness of each section, i.e. how much of it contains any information.

Within the box view, you can expand each box to see its content by clicking on the expand icon in its top right corner. To expand all boxes you can click on the expand icon at the top of the specification tab. Same can be done to collapse a single or all boxes.
Values within each category can be edited by clicking on the edit (pencil) icon at the top right of each box. Note that edit rights depend on user settings.
Categories containing AE tables behave slightly differently as as shown on the Auxiliary engines tables page.
Chart view
Since some of the values given in a specification can be visualized by charts or other means, we do also provide a chart view to give a quick glimpse of the information. The chart view can for example facilitate the spotting of input errors in a much faster way than by reviewing the data in a tabular view.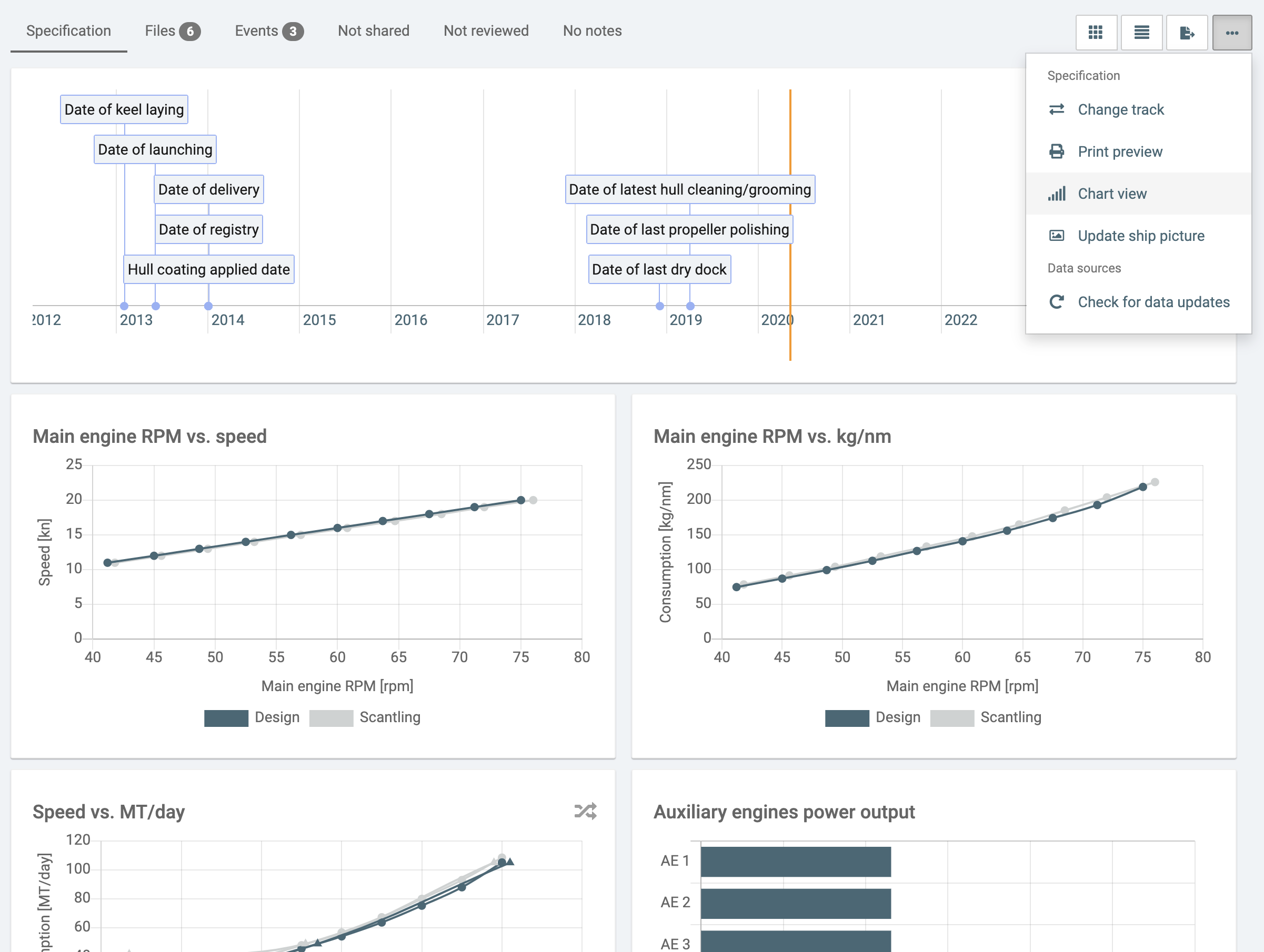 Values for each chart can be edited by clicking on the edit data link at the top right of each chart or by finding the same data within either box or tabular view as explained above.
Print preview
A dedicated print template is available for the information given per ship profile. The preview given by the print preview depends on the browser being used.
Export

From the Export ... button, ship profile information can be used to export Charterer questionnaires listed in Charterer questionnaire templates based on administrator's Mapping of charterer questionnaire templates.
Ship profile can be exported to an Excel file by selecting Export ... → Export to Excel.
Note that minimum and maximum values for MCR are based on Long term min MCR and Long term max MCR as entered in field with ref.id 120 and 118. If no value is provided, the min and max are simply stated as min and max in Excel download.